Unearthing the 215 best buyers' markets in Australia, where purchasers have more power
This article is owned and published by realestate.com.au.
South Australia
Markets throughout the South Australian capital have been running hot in the past few years – and prices continued to nudge upwards over much of 2022.
But an increase in listings is providing would-be buyers with a prime opportunity to act, particularly in prestigious pockets where competition has been strong.
Colin Lee, founder of Inspire Realty, said Salisbury East offers a lot of opportunity for both homebuyers and investors. House listings there are up 67%, while unit listings are up 67%.
"Salisbury East has an all-time low rental vacancy rate of 0.14%, which is just extraordinary," Mr Lee said. In addition, yields are at an attractive 4%.
"There are good-sized blocks with established homes, which bodes well for renovation potential and long-term capital gains. And there's good highway access and a train station."
Also in the city's northern region, Hope Valley is also an area with solid prospects, and interested buyers are enjoying a 68% increase in house listings.
"Housing there is well-established with some good-sized allotments, making for family friendly living," Mr Lee said.
"There's also comprehensive retail amenity with Hope Valley Shopping Centre. The reservoir and its surrounds are an attractive local feature too."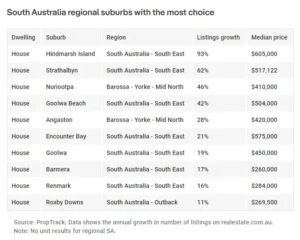 Book a free 45 minute strategy session
Discover our 4 step system, how to strategise, finance, manage and consolidate your property portfolio to build wealth, for a brighter and better future, together.