Queensland Property Market September 2023 Quarter
The path appears resolutely upward.3.9%: Brisbane property price growth rate for the September quarter
There is a significant rise in interest for property ownership and investments in the state of Queensland.
In an intriguing twist, property prices have soared by an impressive 9.1 per cent since January, all while grappling with the backdrop of rising inflation and interest rates. Traditionally, spring marks a bustling season in the real estate world, and now, as we find ourselves amidst it, it's an apt moment to contemplate the potential trajectory of Brisbane's real estate prices.
From our vantage point, the path appears resolutely upward, with several contributing factors that paint an optimistic picture. October presents Brisbane on the verge of breaking records, with property values just 0.6 percent shy of their previous peak, according to CoreLogic data.
The housing market in Brisbane shines, outpacing the unit market, and nearly half of this year's growth transpired in the last three months. This suggests that a pause in the interest rate cycle might have amplified buyer confidence.
With the Reserve Bank of Australia maintaining the cash rate at 4.1 per cent for the fourth consecutive month in October, buyers are seemingly more willing to consider the cost of borrowing, possibly sensing that interest rates are nearing their peak.
CoreLogic's Home Value Index (HVI) offers an encouraging glimpse into the Australian property market, forecasting record-high prices by November. Over the past eight months, prices have steadily ascended. During the September quarter, Brisbane experienced a remarkable property price growth rate of 3.9 per cent. With the HVI indicating a continuation of this trajectory, there's little to suggest any slowdown in house prices.
Whether you're a tenant or a homeowner, it's likely that the ongoing rental crisis in Australia has not escaped your attention. In Brisbane, rental vacancy rates have plummeted to historic lows, propelling weekly rent levels to new heights. Queensland leads the nation with an 83.69 per cent Rental Pain Index, vividly illustrating the challenges tenants face. This predicament is steering people away from renting and toward the pursuit of property ownership, further intensifying the pressure on the housing market. The rental market in virtually all areas of the city remains remarkably tight, with SQM Research data indicating a drop in vacancy rates from one per cent in July to 0.9 per cent in August.
As we approach 2024, buyers should prepare for intense competition and swift decision-making, as sought-after properties are once again selling rapidly. For buyers, this may be an opportune time to buy and invest in property and secure something before the end of the year and the surge in 2024. While housing affordability has become more challenging in Queensland over the last two years, it remains relatively attractive compared to other east coast capital cities, continuing to drive demand for housing in and around Brisbane.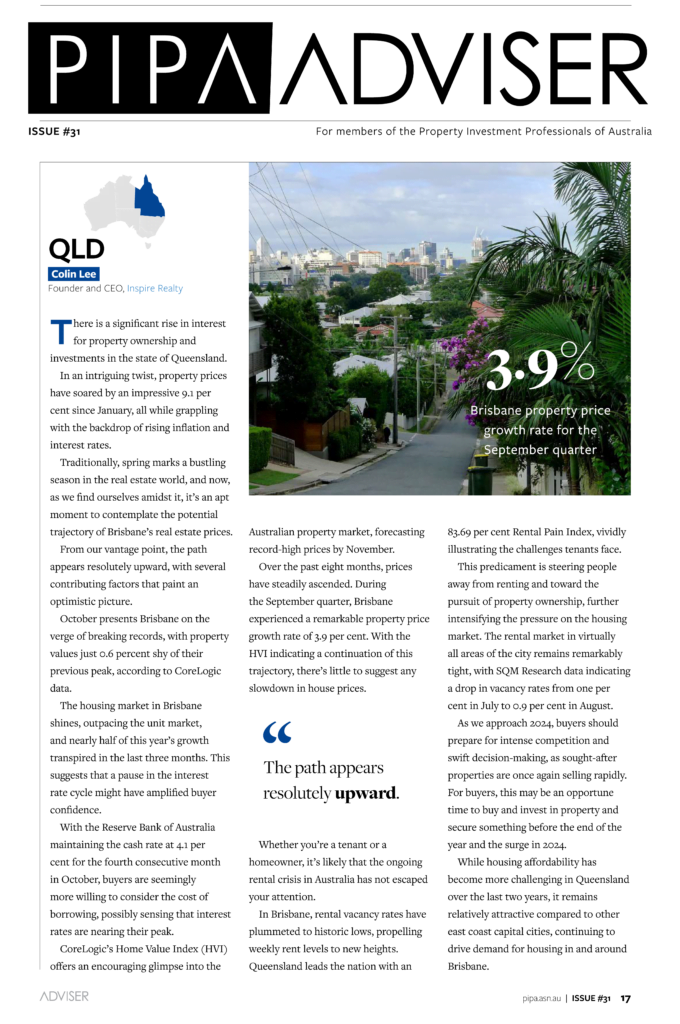 Book a free 45 minute strategy session
Discover our 4 step system, how to strategise, finance, manage and consolidate your property portfolio to build wealth, for a brighter and better future, together.