Colin Lee featured in PIPA Advisor
The article below is owned and published by PIPA Advisor.
I'm absolutely thrilled to share some exciting news with you all! 🎉✨ I've been featured in not just one, but FOUR pages of the prestigious PIPA Adviser, a highly respected publication for trusted property professionals, the Property Investment Professionals in Australia (PIPA) Adviser. 📚
This feature is truly an honor and a testament to the passion and purpose I hold dear in my heart – helping our clients pave the way towards a brighter and more secure financial future. It's incredible to see our efforts recognised on such a noteworthy platform.
My professional journey has been unique, encompassing various roles and learnings that culminate in my passion for helping others.
And you know what? None of this would have been possible without the incredible support and positivity that you all bring into my life. Your cheers, your trust, and your unwavering belief in what I do – it's the fuel that keeps me going. Your guidance, support, and wisdom have been like a compass on this journey. 🧭✨
So here's a big virtual cheers to us, our teamwork, and those special mentors and way makers who've helped light the way! 🥂 Let's keep rocking it, keep making dreams happen, and keep pushing for greatness. Our journey together is just getting started, and I can't wait to see where it leads us next. 💪
This feature shines a big, bright spotlight on something I'm truly passionate about – to Inspire a new generation of investors to take charge of their financial future by helping them build wealth through profitable property investments. We have now helped more than 300 people improve their financial futures.
From the bottom of my heart, thank you for being the best bunch of friends and supporters a person could ask for. Here's to us, our achievements, and an awesome future ahead! 🚀
—
Can you please tell us more about your business, Inspire Realty?
Inspire Realty is an award-winning property advisory and buyer's agency, helping our clients invest with confidence to secure wealth for their future.
Our vision is to be the most trusted and respected property investment services company in Australia helping our clients build a better future together.
With over 15 years of experience in the property and finance industry, and an active property investor myself, I have assisted over 300-plus individuals and families in strategising, financing, managing and consolidating their property portfolios.
I lead a team of passionate and purpose filled buyers' agents with over 25 years combined experience to collaborate and create strategic property investment plans together, bespoke to our clients' goals and dreams.
We are also certified and qualified property investment advisers with the Property Investment Professionals of Australia (PIPA), a member of the Property Investment Council of Australia (PICA) and a member of the Real Estate Institute of New South Wales (REINSW).
Our circular business model makes us a multi-generational service provider, managing property from its purchase through to when the next generation inherits it. As a result, of the hundreds of people we've coached to invest over $50M-plus in property portfolios, they tend to tell others about us. 
Most importantly, we have helped so many people who had no to little idea about property begin and grow their investment portfolios. Part of our mission is to educate and help our next generation of new investors, invest and not struggle or squander, we have done hundreds of consultations and presentations and made a direct measurable impact on countless lives.
Our aim is to help generations of Australians become financially secure and in charge of their futures.
How long have you been a property investment professional and what were your pathways into the profession (incl. Other careers)? Also, please tell us a little about your own personal property investment history?
My professional journey has been unique, encompassing various roles and learnings that culminate in my passion for helping others. Starting as a math tutor, I discovered the importance of persistence, patience, and problem solving. I took on a second job as a waiter at the same time just to make ends meet.
My parents initially encouraged me to invest in real estate, offering to match whatever I saved towards my first property, and taught me about investing wisely into assets that appreciate over time. I had $5,000 and saved another $20,000 in the next nine months. My mum lent him the other $25,000 and I bought my first property.
In 2004, I started an educational business at the time while developing my skills. In 2011, I played 'Cashflow Quadrant'; with a friend, a fellow immigrant to Australia, who shared his story about how his family worked hard and built a successful property portfolio.
His story inspired me, and I made a complete career change. I took a job as an assistant property manager, earning just $45Kpa and doing menial tasks, which was incredibly humbling. I started out a few steps back from my career pathway, entry level into the property industry just to learn the ropes and learn how to invest in properties.
In six months, I was promoted to property manager and given a portfolio of 20 properties to nurture. I went from 20 to 100 and eventually over 200 properties under management in three years, breaking all records for the company. I then transitioned into becoming a sales agent and became their star performer 3 years in a row, once again breaking all records for the company. I eventually became the Principle and Licensee in charge of this fast-growing business.
Shortly after, I was tapped on the shoulder by one of Sydney's most prominent property developers and became the project sales director, looking after 5 of their major projects with about 2000 properties under management.
Then in 2016, I was tapped again by one of Australia's largest property investment firms. Here, I began selling brand-new properties (Units, Townhouses and House and Land packages) creating partnerships with multiple developers. I took on a role as the Head of Strategic Property
Services for 2.5 years and climbed the corporate ladder.
The real estate market is fickle, and my role was made redundant in 2019. My wife was seven months pregnant and was tempted to get back on the corporate ladder, but we believed in a vision of starting out on our own and helping others become financially secure. By this time, my 7 investment properties had grown to be worth over $5M and was generating me over $150K plus in income.
We put their entire property portfolio on the line and launched Inspire Realty in 2020. I have grown the business from being a one-man-band by building strong foundations to be more efficient and easily accessible to the team, with now a team of seven property professionals assisting our clients to build their property portfolios.
My journey highlights an unwavering determination, passion for property, and dedication to helping others achieve financial security and wellbeing through profitable property investments and to ultimately have the freedom and flexibility to pursue their passion and purpose (including starting a business).
What are some of the reasons why you originally decided to join PIPA?
Over the 13 years being involved with many sectors within the property industry, I have come to realise that property professionals are largely unrepresented in the industry, media, and within government. 
I was enthused and excited to be part of a collectively body of professionals that has a common voice in the space and wanted to be part of an organisation that represented us as property advisors.
I was impressed to learn that PIPA members are encouraged to adhere to a code of conduct which means we are setting new standards for property professionals and advisors.
It seems that the property advisory space is largely unregulated and so knowing that we could set ourselves apart by being part of a recognised body is important for our business and the professionalism of our service.
You have completed the PIPA Accreditation Program and are a QPIA member as well. Why did you think it was important to undertake specialist advice training and what are some of the benefits for your business after finishing the program?
We know that the vast majority of investors would choose an accredited professional over one that isn't in the marketplace.
To set ourselves apart, I chose to undertake and be a Qualified Property Investment Advisor and to ultimately help our clients make better property investment decisions.
I have realised that unlike the financial planning advisory space, there is little by way of accreditation and standards for property professionals in the advisory space and so having industry benchmark standards is important to be able to deliver higher quality property investment advice.
Since obtaining my QPIA accreditation, I have been able to highlight further my credibility and have a point of differentiation in the market place. In my consultations with my clients, I have been able to build trust and highlight our key points of difference with other property professionals and been able to win more business as a result.
What's next for your business in the next 12 months and beyond?
Australia is in the grip of a rental crisis, with an ageing population reliant on dwindling pension funds and massive homelessness issues. At the same time, those who might invest in property, providing the much-needed solution, are making poor property decisions.
Most, despite months or years of weekend inspections, endless research, and dealings with agents, bankers, and brokers, still don't enter the market, and many have their best endeavours derailed by expensive mistakes.
Our mission is to Inspire a new generation of investors to take charge of their financial future by helping them build wealth through profitable property investments.
Inspire Realty's innovative methodical approach removes the emotion of property purchasing and sets people on track to build wealth for their future. It is taught to leverage property from one to more, giving them a skill that can be acquired over time by making wise judgments.
We look forward to setting a new benchmark in the quality of service and success of our clients. I am good at getting people on the same page, a skill that helps when I'm reminding my team why we do what we do.
My business is not profit-first but purpose and people-first. I use my vision to inspire clients to take charge of their financial futures.
Our entire purpose is to help our clients find their WHY through a holistic approach. Seeing beyond their current situation, to be inspired to do bigger things. To have a vision of what could be and to realise their dreams and desires.
Our team knows to always act in the best interest of our clients. To be a trusted service provider with integrity. Doing what is right, fair and just means having consistency in our communication, doing what we say and committing to our actions.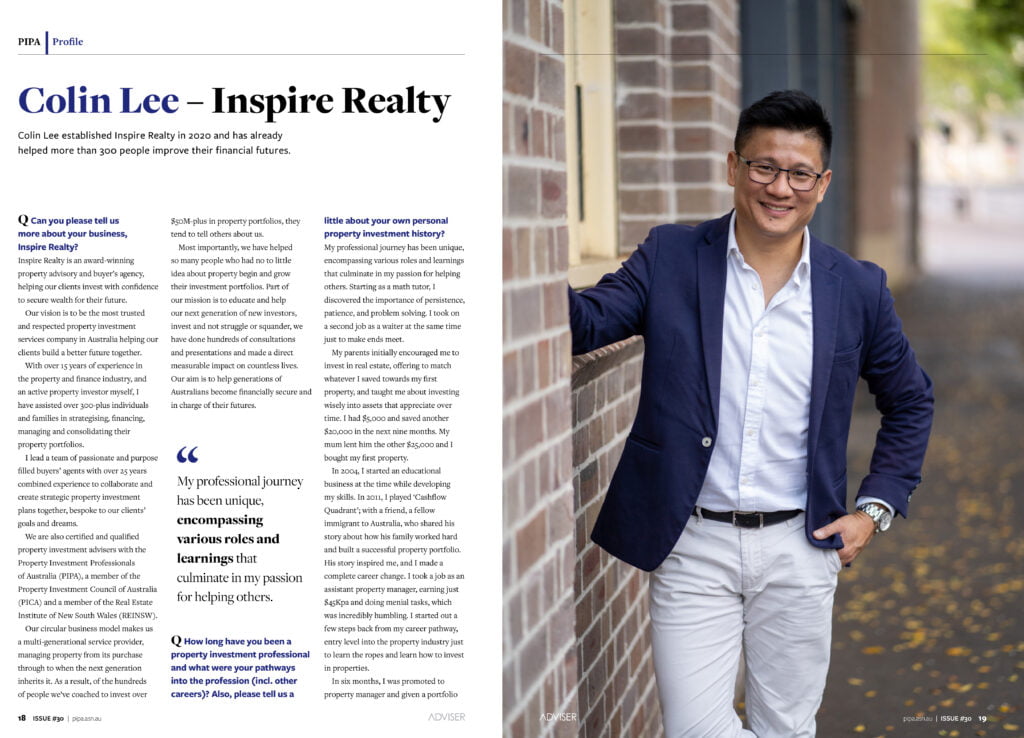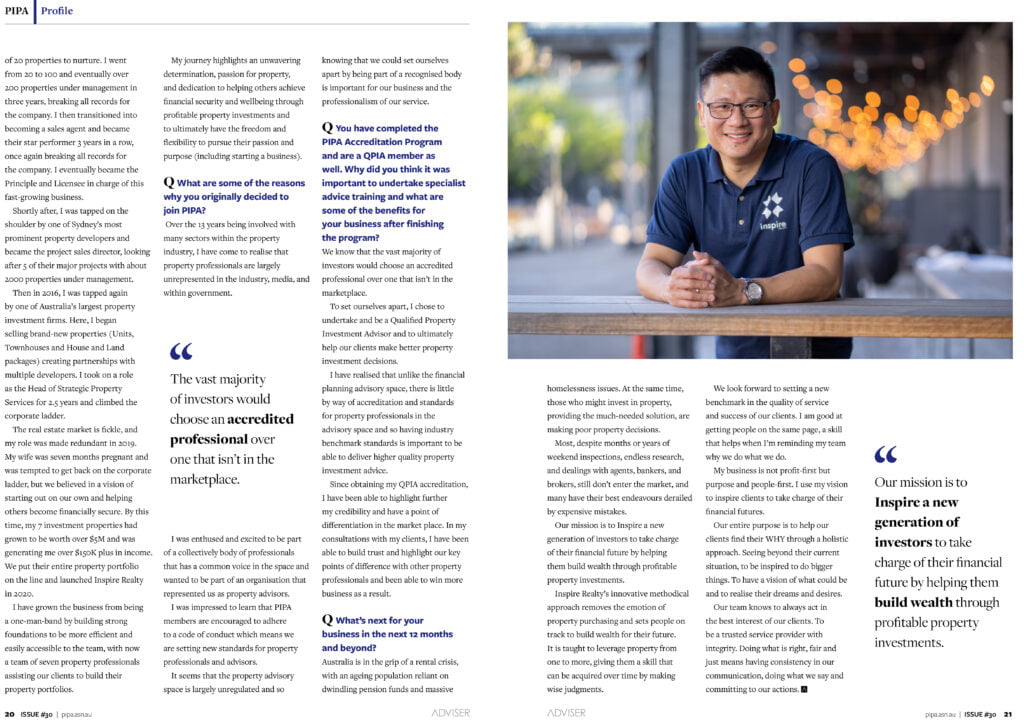 Book a free 45 minute strategy session
Discover our 4 step system, how to strategise, finance, manage and consolidate your property portfolio to build wealth, for a brighter and better future, together.