Australian Broking Award Winners 2021
Please note: The reposted article below was published by The Advisor, where Property Advisor Colin Lee was named as a recipient of the Wellness Advocate of the Year award. Click here to view the official publication.
It's a tough world out there for the younger generation when it comes to buying a property.
More than 700 people attended this year's Australian Broking Awards in early December, with the leading lights of the mortgage and finance broking industry coming together for a long-overdue celebration of excellence. We take a look at the winners of the Australian Broking Awards 2021
Following a tough year of lockdowns, border restrictions, and separation – the leading players in the mortgage and finance broking industry came together on 2 December to recognise the brokers, loan administrators and aggregators delivering exceptional outcomes for Australian borrowers.
Run in partnership with principal partner NAB, the 11th annual Australian Broking Awards took place as an in-person event once again this year at the International Convention Centre (ICC) Sydney.
More than 700 people attended the luncheon event to celebrate the achievements of the 238 finalists showcasing why mortgage and finance brokers continue to be the channel of choice of borrowers.
Brokers, mentors, loan administrators and aggregators from every state and territory were represented in the finalist list this year, competing to take one (or several) of the 28 submission-based categories that celebrate the best of the best in this industry on a national stage.
Attendees were on tenterhooks to also discover who would be crowned the overall individual broker winner for the coveted Broker of the Year award, as competition was fierce this year.
Annie Kane, editor of The Adviser, commented: "The Australian mortgage and finance market has been achieving record highs this past year, with the broking industry busier than ever to help Australian borrowers achieve their dreams.
"Given the record volume of business, the ongoing pandemic and a new regulatory regime, the broking industry has had to work harder than ever to help borrowers access finance. A key theme emerging through the submissions this year was that of a sector which has been working tirelessly to help clients, through thick and thin.
"All the finalists this year should all be commended for their perseverance, their passion and their professionalism in an extremely busy period.
"Many congratulations go to the 27 winners who are working tirelessly to showcase why brokers are, and continue to be, the channel of choice for Australian borrowers."
In the following pages, we list all the winners of the 2021 awards and reveal what winning means to them. Congratulations to all the winners.
You can find out more about why the winners were particularly commended, here.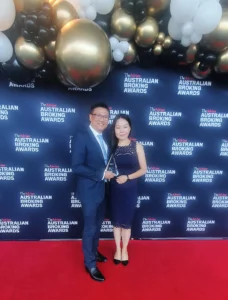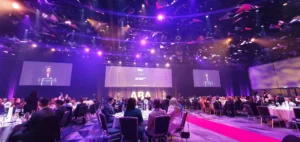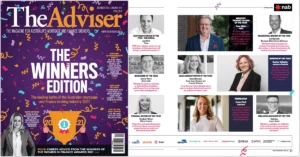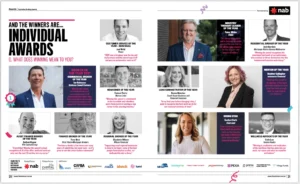 AND THE WINNERS ARE…
INDIVIDUAL AWARDS
BROKER OF THE YEAR 2021
AND
COMMERCIAL BROKER OF THE YEAR
Ian Robinson
Robinson Sewell Partners
"Winning this award is a demonstration of accomplishment by all commercial borrowers who have reached out and sought professional guidance and support for their businesses."
CUSTOMER SERVICE OF THE YEAR – INDIVIDUAL
Joel Wyld
Peasy
"2020 was a breakout year for me and my business and this award caps it off and puts an exclamation mark on it!"
NEWCOMER OF THE YEAR
Connor Perry
Money Links
"Winning this award is a testament to the incredible and relentless work I have put in to starting a new career in this amazing industry."
ASSET FINANCE BROKER OF THE YEAR
Nathan Hogan
IFin Capital Group
"Everything! Winning this award is great recognition of all of the effort and hard work not only over the past 12 months, but my career."
FINANCE BROKER OF THE YEAR
Tony Bice
First Choice Mortgage Brokers
"I've been a finalist a few times over many years of submitting, but never won – so it's great to win this award before retirement!"
REGIONAL BROKER OF THE YEAR
Elizabeth Wilson
Wilson Financial
"Supporting small regional businesses is close to my heart; some of the best people Australia has to offer, so I dedicate this win to them."
INDUSTRY THOUGHT LEADER OF THE YEAR
Peter White
FBAA
"It's about being one's self in the best possible version that one can be, for all the right reasons, for the support and benefit of others."
RESIDENTIAL BROKER OF THE YEAR
Josh Bartlett
Mortgage Advice Bureau Melbourne
"Winning the award recognises the consistent hard work of our entire team, who continue to throw themselves into this business with passion and energy."
LOAN ADMINISTRATOR OF THE YEAR
Renee Menzies
South Coast Business and Financial Solutions
"In my final year before changing roles, I want to recognise the hard work we do for our customers in times of need."
MENTOR OF THE YEAR
Heather Gallagher
outsource Financial
"Winning this award is recognition of the hard work and long hours over what has been a tough year for everyone in our industry."
RISING STAR
Evelyn Clark
EverLend
"I am extremely proud to have made my positive mark on the industry and made a difference to so many people's financial wellbeing."
WELLNESS ADVOCATE OF THE YEAR
Colin Lee
Inspire Realty
"Winning is a validation and vindication of the sacrifices that has gone into our work, our cause and what we stand for and believe."
GROUP AWARDS
BOUTIQUE AGGREGATOR OF THE YEAR
Liberty Network Services
"Winning Boutique Aggregator of the Year reinforces LNS' commitment, investment and dedication toward supporting adviser success, business growth and helping more people get financial."
INNOVATOR OF THE YEAR
Mortgage Advice Bureau
"Winning the award recognises and rewards the brilliant minds behind these programs who continue to throw themselves into this business with passion and energy."
NEW OFFICE OF THE YEAR
EverLend
"We are extremely proud to contribute to the continual development of the broking industry and to have directly improved the financial wellbeing of our community."
SOCIAL AND COMMUNITY ENGAGEMENT PROGRAM OF THE YEAR
Birdie Wealth
"This award is testament to our focus on working with our local community to improve outcomes for all."
BROKER MARKETING PLATFORM OF THE YEAR
Loan Market
"We are committed to helping our brokers find and keep clients at Loan Market through automated, time-saving marketing solutions."
MAJOR AGGREGATOR OF THE YEAR
Connective
"Brokers played a vital role supporting Australians during an unprecedented year. We're proud of the work we did to support the industry in this pursuit."
OFFICE OF THE YEAR – FRANCHISE
Mortgage Choice Williamstown
"This award gives recognition to our office's perseverance in a challenging economic climate, exceeding industry standards through applied resilience and innovation to engage and delight."
TECHNOLOGY PLATFORM OF THE YEAR
Lend Capital (Lend)
"Winning this award is a profound achievement for the Lend team – particularly the onshore developers who work with relentless vision, dedication, and passion."
CUSTOMER SERVICE OF THE YEAR – OFFICE
Empower Wealth Mortgage Advisory
"At Empower Wealth, excellence in customer servicing is everything to us and is responsible for every single decision we make – winning would simply recognise this."
MAJOR BROKERAGE OF  THE YEAR – FRANCHISE AND MARKETING CAMPAIGN OF THE YEAR
Aussie
"Winning for Aussie provides recognition that we are doing what it takes to fulfil our purpose of putting progress in reach of more Australians."
MAJOR BROKERAGE OF THE YEAR – NON-FRANCHISE
Empower Wealth Mortgage Advisory
"Winning the award demonstrates that Empower Wealth's core philosophy – to help as many people achieve true financial peace as we possibly can – has been recognised."
TRAINING AND EDUCATION PROGRAM OF THE YEAR
AFG
"This award is a testament to the commitment, professionalism and hard work [of] our brokers."
DIVERSIFICATION PROGRAM OF THE YEAR
Infinity Group Australia
"This award recognises our holistic and ground-breaking customer service offerings. I dedicate this award to Rebecca and the entire Infinity family."
OFFICE OF THE YEAR – NON-FRANCHISE
Entourage
"It's a great honour to be recognised at the ABAs. This validates all the hard work we have put in over the past five years."
REGIONAL OFFICE OF THE YEAR
Smartline Dunsborough
"It's recognition of the love of putting clients first always, past present and future – going above and beyond to provide successful solutions for clients." 
Methodology and judging
Any individual or company that entered was asked to complete a detailed submission answering key criteria items via our secure awards platform.
These were delivered to a panel of respected industry professionals and business leaders who assessed each submission. Judges scored each submission across a range of criteria specific to the category description (for example, written responses, growth metrics, testimonials, etc).
A number of judges were assigned to individually assess submissions to each category, offering a blended score and assessment. The Broker of the Year award winner is selected from the highest scoring broker winner from the individual award categories.
THANK YOU TO OUR 2021 AWARD JUDGES
Andrew Phanartzis
director, Property Association
Andrew Durden
director, Loanworks
Brett Spencer
chairman, Opica Group
Brian Knight
CEO, Kaplan Professional
Gareth Woodham
affiliate director, Suburbanite
Jason Back
founder/director, Broker Essentials
Jenny Pearse
managing director, Jenesis – Business and Marketing Consultancy
Josh Frith
managing director, The Dubs
Kevin Daly
professor of economics, finance and property, WSU
Lisa Montgomery
performance coach and consultant, Take2 Consulting
Mark Zaglas
CEO, Encore Advisory Group
Michael Field
partner, EvettField Partners
Michael Trencher
managing director, Impact Consulting
Neville Hurst
senior lecturer, RMIT University
Peter Lynch
client relationship manager, Aon
Peter Williams
chairman, Deloitte Innovation Council
Rahat Munir
head accounting and corporate governance, Macquarie University
Roland Youakim
managing director, Platinum People Group
Sascha Moore
director, Create Design & Marketing
Stephen Koukoulas
managing director, Market Economics
Tyrone Hodge
chairman, API (Australian Property Institute)
[Related: What winning means to me: ABA winners 2021]
Book a free 45 minute strategy session
Discover our 4 step system, how to strategise, finance, manage and consolidate your property portfolio to build wealth, for a brighter and better future, together.