Inspire Realty – on a mission to help their clients build a better future together
The article below is owned and published by CityHub.
FEATURED in the City Hub Sydney (BEST OF THE BEST of Sydney) and we are just so excited to be featured as the Best Real Estate Agency in Sydney – on the back of taking out the award for Outstanding Real Estate Agency.
From Bondi in the east to Balmain in the west, no one reaches young urban dwellers like CityHub – Largest local publication for Sydney. This edition is now 30,000 in Print (their most popular edition) and online!
Here is a snippit of the article! Read more on the link in the chat.
INSPIRE REALTY – ON A MISSION TO HELP THEIR CLIENTS BUILD A BETTER FUTURE TOGETHER
Inspire Realty stands as a distinguished buyers agency and a property advisory firm winning the 'Outstanding Real Estate agency' recently at the 2023 Local Business Awards.
Founded in January 2020, Inspire Realty was created with the mission to inspire a new generation of investors to take charge of their financial future by helping them build wealth through profitable property investments with a strong commitment to assisting clients in finding their dream homes and right investment opportunities.
Inspire Realty envisions itself as the foremost trusted and respected property investment services company in Australia. Their efforts pave the way for young individuals to attain financial literacy and ensure their ability to provide for themselves and their families in the years to come.
THE MAN BEHIND INSPIRE REALTY
Colin Lee, the Founder and CEO of Inspire Realty, is a celebrated business leader who has earned numerous accolades, including the Australian Small Business Champion Awards and the prestigious Entrepreneur of the Year for New South Wales in 2008.
With a rich background encompassing education, property, and finance, Colin's foremost passion lies in empowering his clients to attain financial wellbeing and prosperity through astute and strategic property investments.
Drawing from his diverse expertise, Colin is renowned for guiding clients towards smart investment decisions and wealth creation opportunities within the real estate industry. His unwavering commitment to his clients' financial success sets him apart as a respected and sought-after expert in the field. Colin's parents left Malaysia 23 years ago just after the 2000 Olympics, and with it, their family, friends, comfort of life and job security to start from scratch in Sydney.
HUMBLE BEGINNINGS
Inspired by their work ethic, as the eldest son, he set his dreams on being financially free to give his family a wonderful lifestyle and the freedom and flexibility to live life to the fullest. In his early 20's, Colin worked 3 jobs: a maths tutor, a waiter, and an intern engineer. He worked 7 days a week and saved up a deposit to purchase his first property 13 years ago. Now, with a portfolio that generates him over $150k in income, there is more than enough to support charities, communities and give back to his family.
Colin grew up observing his parents' dedication and success in Malaysia, with his father serving as a senior banker and his mother as a law lecturer. He first felt the expectation to follow in their corporate footsteps. "I attended numerous property investment seminars and realised the key was to steward and invest my money wisely. I read that over 70% of the rich people made their wealth by investing in properties. I knew intrinsically and intuitively that, that was the way to go" Colin recalled.
UNVEILING THE ESSENCE OF INSPIRE REALTY'S BUSINESS AND PASSION
Inspire Realty is a renowned property advisory and buyer's agent that helps people achieve long-term financial security through property investment.Their core objective is to guide individuals towards making the right and strategic investment decisions.Colin's journey to real estate began in 2011 when he took on a role as an assistant property manager with
a local real estate agency in Sydney, which within months became a property manager looking after a portfolio of just over 200 properties. He then transitioned to a sales agent and in the next 3 years became the Top Agent. He then became the Principal and Licensee in charge of the agency and grew his property management and sales team.Then in 2015, he took on a role as a project sales director for one of Australia's most prominent property development firms to manage five of their major projects and their sales team, looking after just over 1,600 of their lots in their portfolio. His move into property development led to him joining one of Australia's largest property investment services companies in 2017 as head of strategic property investment services.
NAVIGATING PROPERTY: BALANCING FINANCIAL RISK AND ACHIEVING SECURITY
Then in 2019 just as COVID was spreading overseas, his role was made redundant, just when his wife was 2 months from giving birth after returning from an overseas trip."I owned seven investment properties with seven mortgages and had a wife who was seven months pregnant and about to go on maternity leave. Within a month we went from two high incomes to zero. It was one of the most difficult times in my life. I had no idea what I would do",he shared. In the end, knowing they had investment properties available to sell if they needed gave them the security in believing in the power of property. In partnership with his wife, they put their entire property portfolio on the line to launch Inspire Realty. "I know everything happens for a reason and I became an accidental entrepreneur through that. Now my goal is to inspire others to invest for their futures and ensure they can ride the waves that life can throw at them," he said.
Now, Inspire Realty is a renowned and award winning property advisory and buyer's agent that helps people achieve long-term financial security through profitable property investments.
INSPIRE REALTY'S VISION
Colin's passion and mission is to inspire generations of Australians and migrants to take charge of their financial future and experience financial wellbeing. Inspire Realty firmly believes in addressing the preventable poverty crisis in Australia by offering distinctive services to empower individuals in making informed investment decisions for a sustainable future. Their mission is to inspire these individuals to invest in property with reduced risk, enabling them to secure their financial futures and build lasting wealth.
INSPIRE REALTY LOVES THEIR CLIENTS
Colin hopes Inspire Realty will become a national brand with influence and impact in the Aussie fabric. He sees himself as a property futurist, a transformational and trusted property advisor, a voice for the voiceless, speaking up for private investors to build a financial future to retire on. At the core of Inspire Realty's success lies a powerful principle – Love Your Client (LYC). Colin's commitment to putting people and purpose first and products second drives every decision and interaction. The ultimate goal is to help clients build high cashflow and strong capital growth property portfolios that pave the way for a secure and worryfree retirement.Their vision is to become Australia's most trusted and respected property investment services company and to ensure their clients secure a better future for themselves and their families.
View PDF edition: https://issuu.com/altmedia/docs/city_hub_august_book_issuu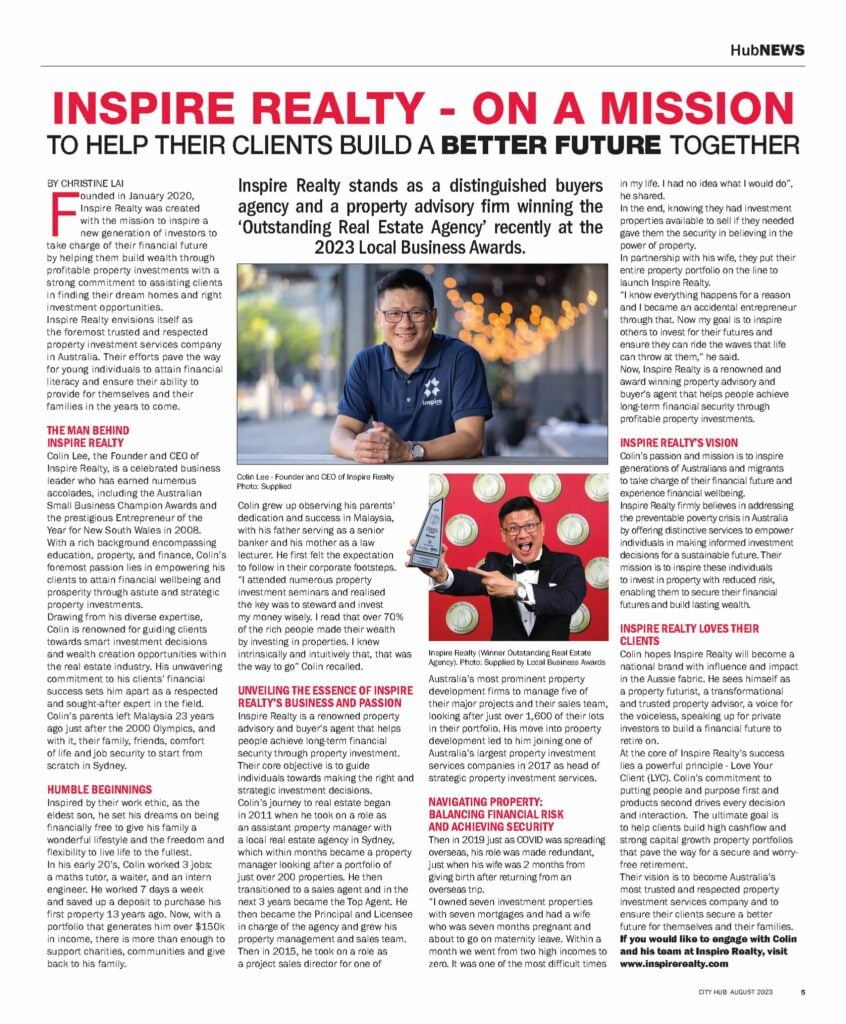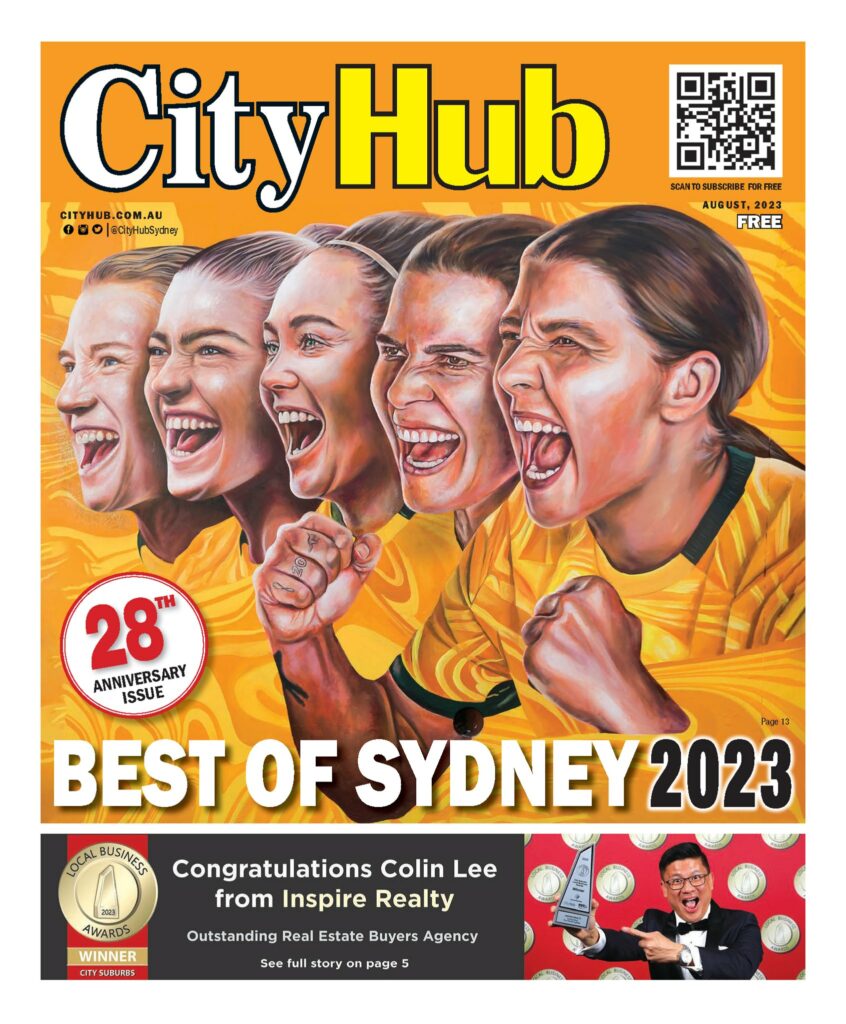 Book a free 45 minute strategy session
Discover our 4 step system, how to strategise, finance, manage and consolidate your property portfolio to build wealth, for a brighter and better future, together.