6 Property Trends in 2021
𝐖𝐡𝐚𝐭 𝐥𝐢𝐞𝐬 𝐚𝐡𝐞𝐚𝐝 𝐟𝐨𝐫 𝐨𝐮𝐫 𝐫𝐞𝐚𝐥 𝐞𝐬𝐭𝐚𝐭𝐞 𝐦𝐚𝐫𝐤𝐞𝐭𝐬? 🤓🤓🧐
1. 𝑷𝒓𝒐𝒑𝒆𝒓𝒕𝒚 𝒅𝒆𝒎𝒂𝒏𝒅 𝒇𝒓𝒐𝒎 𝒉𝒐𝒎𝒆 𝒃𝒖𝒚𝒆𝒓𝒔 𝒊𝒔 𝒆𝒙𝒑𝒆𝒄𝒕𝒆𝒅 𝒕𝒐 𝒓𝒆𝒎𝒂𝒊𝒏 𝒉𝒊𝒈𝒉.
As property values rise and the media reports more positively on our housing markets, FOMO will drive more buyers to enter the market before it prices them out.
Home prices are currently surging across Australia, auction clearance rates remain high, and the media keeps reminding us that we are in the midst of a property boom.
As a result, emotions are running high right now, with FOMO (fear of missing out) being a common theme in Australia's real estate markets.
2. 𝑭𝒊𝒓𝒔𝒕-𝒕𝒊𝒎𝒆 𝒃𝒖𝒚𝒆𝒓𝒔 𝒘𝒊𝒍𝒍 𝒃𝒆 𝒔𝒒𝒖𝒆𝒆𝒛𝒆𝒅 𝒐𝒖𝒕 𝒃𝒚 𝒊𝒏𝒗𝒆𝒔𝒕𝒐𝒓𝒔.
While there were many first-time buyers (FHBs) in the market in the first half of the year, buoyed by the many incentives available to them, FHB demand is fading as property investors re-enter the market and property values rise.
3. 𝑻𝒉𝒆 𝒗𝒂𝒍𝒖𝒆 𝒐𝒇 𝒓𝒆𝒂𝒍 𝒆𝒔𝒕𝒂𝒕𝒆 𝒘𝒊𝒍𝒍 𝒄𝒐𝒏𝒕𝒊𝒏𝒖𝒆 𝒕𝒐 𝒓𝒊𝒔𝒆
While many factors influence property values, consumer confidence, low interest rates, economic growth, and a favorable supply and demand ratio are the main drivers of property price growth.
However, Australia's low mortgage rates continue to underpin the country's very strong growth in property prices.
4. 𝑷𝒆𝒐𝒑𝒍𝒆 𝒘𝒊𝒍𝒍 𝒑𝒂𝒚 𝒂 𝒑𝒓𝒆𝒎𝒊𝒖𝒎 𝒕𝒐 𝒍𝒊𝒗𝒆 𝒊𝒏 𝒂 𝒅𝒆𝒔𝒊𝒓𝒂𝒃𝒍𝒆 𝒏𝒆𝒊𝒈𝒉𝒃𝒐𝒓𝒉𝒐𝒐𝒅.
People will pay a premium in our new "Covid Normal" world to be able to work, live, and play within a 20-minute drive, bike ride, or walk from their home.
They will look for shopping, business services, education, community facilities, recreational and sporting resources, and some jobs within a 20-minute drive.
Residents in these areas have come to value the ability to be out and about on the street socializing, supporting local businesses, volunteering at local schools, and enjoying local parks.
5. 𝑴𝒐𝒓𝒆 𝒆𝒙𝒑𝒆𝒏𝒔𝒊𝒗𝒆 𝒑𝒓𝒐𝒑𝒆𝒓𝒕𝒊𝒆𝒔 𝒘𝒊𝒍𝒍 𝒐𝒖𝒕𝒑𝒆𝒓𝒇𝒐𝒓𝒎
The current property cycle was initially characterised by all segments of the market rising – other than inner-city high-rise apartments.
But now the high end of the market is leading the growth in property values
6. 𝑻𝒉𝒊𝒔 𝒊𝒔 𝒂𝒏 𝒖𝒑𝒈𝒓𝒂𝒅𝒆𝒓-𝒅𝒐𝒎𝒊𝒏𝒂𝒕𝒆𝒅 𝒄𝒚𝒄𝒍𝒆.
The current property and economic environment, as well as the scars left on many of us by a year of Covid-related lockdowns, have led to an increase in the number of Aussies looking to upgrade their lifestyle.
Many tenants are no longer content to live in small, dingy apartments, and with an abundance of rental units available in many areas, they are taking advantage of the opportunity to upgrade their living situation.
Other tenants who have saved a deposit are taking advantage of many of the available incentives and becoming first-time home buyers.
With record low interest rates and booming real estate markets, many existing homeowners are upgrading to larger homes in better neighborhoods.
While a small number of homeowners are upgrading their lifestyle by moving out of the big city to regional Australia, more Australians are looking to improve their lifestyle by moving to a better neighborhood.
Many Baby Boomers are looking to upgrade their accommodation by moving out of their old, tired family home into large family-friendly apartments or townhouses.
But they're not looking for a sea change or tree change, they're keen to live in "20-minute" neighbourhoods close to their family and friends.
💯💯💯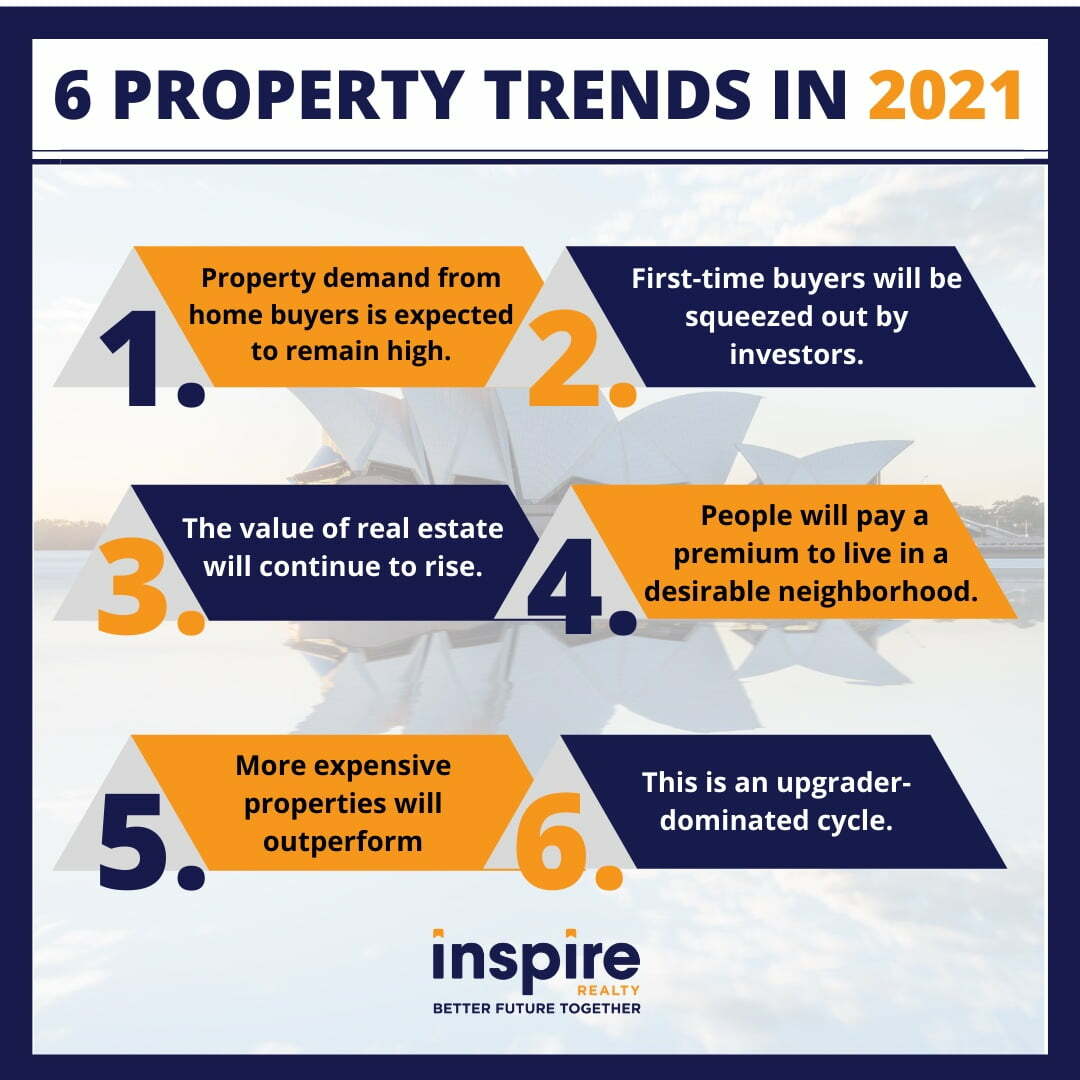 Book a free 45 minute strategy session
Discover our 4 step system, how to strategise, finance, manage and consolidate your property portfolio to build wealth, for a brighter and better future, together.